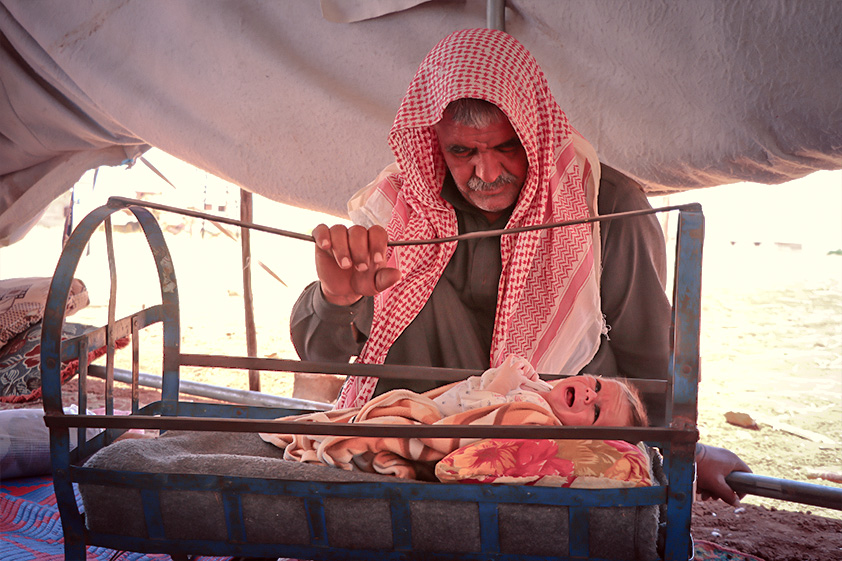 Ahmed, 72, displaced from the southern countryside of Idlib with his family of 13.
Due to the recent military escalation in Hama and southern Idlib, and with the intensification of shelling on villages and on the civilian communities, Ahmad's family was forced to flee like hundreds of thousands of Syrian families who left their homes and villages and headed north, where the situation is relatively safer.
"We left our house with the clothes we were wearing until we reached the western countryside of Aleppo, and we stayed in this worn tent with no mattresses or covers, we just wanted to survive!!
The villagers gave us an old mat and two mattresses to sleep on." Ahmed said.
It was the most difficult thing Ahmed faced when he saw his children sleeping at night while they were lying on that worn mattresses. Before the displacement, he used to look after his children and cover them while sleeping at night.
"We were in this situation for 20 days, but we felt like it's 20 years" said Ahmed.
In partnership with CARE International, IhsanRD is carrying out an Emergency Response to the newly displaced people in the north of Syria through the provision of emergency kits that contain mattresses, mat, plastic sheeting and insulation for the tent as well as a water jerrycans and a solar lamp, in addition to the kitchen kits containing spoons, dishes and a pot for cooking and mugs. Of these, 4,500 new arrived displaced families have benefited from this project in the western Aleppo countryside.
Ahmad received this aid and returned to his tent with the distribution team at IhsanRD. The family was very happy to get this assistance as the children opened the kits and scattered the items on the floor of the tent while they are laughing.
Now, Ahmed's children can sleep on soft mattresses and enjoy the warmth of their blankets in the hope that one day they will return to their home and sleep safely in their beds when the war ends.