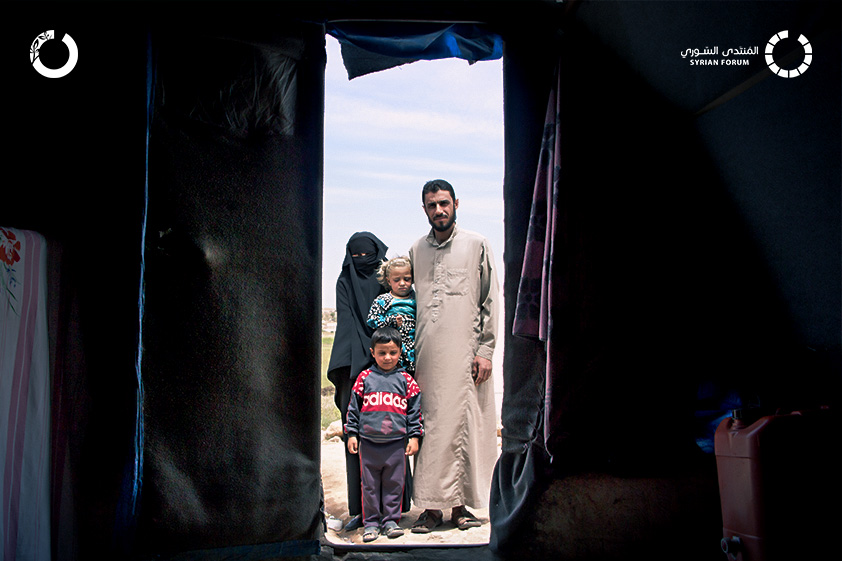 There are many different stories of displaced people who flee the war zones in Syria, but they share the common issue of obtaining the legal documents.
Although years of displacement and stability in relatively safe areas, a large number of displaced people remain without legal documents either because of losing their property during displacement or because they do not know how to apply for new official documents in the places they fled to, such as the case of Hussein and his family, who settled in a random IDPs camp in the northern countryside of Aleppo after fleeing from their town in Sefirah.
The journey of Hussein's family began in Al-Bab city, but due to the high rents of the houses there and the difficulty of finding a suitable job, Hussein was forced to move with his family to an IDPs camp near the city of Al-Bab.
Hussein is married for six years and has two children, a 5-years-old boy, and a 3-years-old girl, but Hussein's family does not have any identity document that certifies their civil rights after settling in the place they have been displaced to, resulting in many problems and challenges.
"Because we don't have legal documents, I suffer when I take my children to health centers, and when I register in humanitarian organizations to get the aid that my family needs; apart from the difficulty of moving and crossing security checkpoints," Hussein said.
The Legal Awareness Team at IhsanRD in Qabbasien has provided awareness sessions for the displaced about registration procedures for marriage certificates, birth certificates and the importance of the legal documents. The group met with Hussein and helped him obtaining all legal documents missing.
The first thing that the legal awareness team did was to accompany Hussein and his family to the nearest civil registration center to have all identification documents for him and his wife, marriage certificate and a family record. After that, Hussein obtained his full legal rights, which makes it easier for him to enroll his children in school, go to the health centers, register for relief assistance, and facilitate movements and passing the security checkpoints.
"Now I have my legal rights, and feel I'm a member of the society" Hussein said.