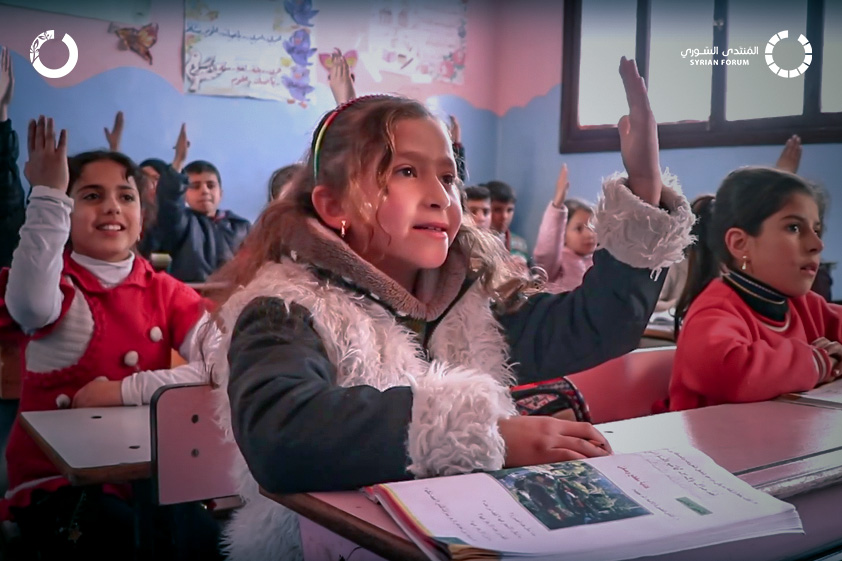 Shaimaa, 9, Syria – Aleppo
A well-trained teacher who brought Shaimaa back on track
At the age of 7, Shaimaa had lost her mother, and two of her brothers, which made her an orphan, as she has lost her father earlier. She stayed with her uncle, who carried the responsibility of her at that time, and had to send her to the orphans school where he expected to be a better place for her with children have similar sad situations like the one she had.
Shaimaa's family is not displaced, given that they live already in one of the most famous destinations of internally displaced families, Al Atareb subdistrict in Aleppo countryside. This area was highly targeted and affected by the armed confrontations and the air strikes bombardings. Shaimaa's family wasn't a family of high income, but it was a family of a good education, her parents were both teachers, and hoped to raise their children to be educated at the highest level. The father, died as a result of the confrontations to leave the mother with 4 sons and 2 daughters to raise, support, and educate. The mother kept doing what she knew the best, teaching. She did that in the school supported by Save the Children through IhsanRD, Banat Al Atareb. Unfortunately, after the heavy bombarding targeted Al Atareb in December 2016, the family of Shaimaa lost the only provider and two sons who were scared and hiding their heads under their mother arms. Shaimaa's uncle, wasn't able to provide the needed financial and emotional support to his 2 nieces and 2 nephews, bearing in mind that he also lost other two brothers who in their turn left their families to face the hardships of living in Syria alone. For Shaimaa, the orphans' school, wasn't the right place to learn. But, her childish hope stayed inside here, wishing for a better tomorrow. The teachers of Banat Al Atareb school, stayed loyal to their beloved colleague Fatima Jalloul (Shaimaa's mother) and never forgot Shaimaa, after the developments made in their school by IhsanRD, they reached out to Saimaa's sister (21 years) which turned to be a college student and works as well as her youngest brother (19 years) in order to provide the minimum standard of livings to their siblings after they all came back to live in the same house they used to live in after being rehabilitated. On the 1st of October 2018, Shaimaa came back to be enrolled in her school at the 4th grade, where her mother used to teach for nearly 10 years. The traumas Shaimaa experienced had a lot of impact on the small girl, she now fears any sudden voices because of the bombardings targeted her home "the most thing scared me was the bombarding, it was hitting our house". Shaimaa's teacher Zahra who attended the "Child Safeguarding Policy training" for three days as well as other training delivered by IhsanRD staff, noticed that she is not showing the same reactions in classes as her teammates, not engaging with them in the playground, and talk as less as she can. The teacher tried to excite Shaimaa, by talking to her and gaining her confidence, motivating her for classes, and what matters more, talking with her about her family, and her parents whom she missed. The teacher noticed that drawing is one of the very useful tools for children to express their thoughts, therefore she
motivated the children including Shaimaa to draw and she even draws with them, using the materials provided by IhsanRD. It is obvious that Shaimaa will keep remember her mother and father and talk about them as she said: "the thing which will help me the most, is to have my parents living with us again". But isn't much better for Shaimaa to be able to mention her parents and express her feeling of the tendency to them? in order to go through these difficult days of her life. Shaimaa's teachers insisted on helping her to overcome her issues and get back on track in her class. In the end, she was so proud and pleased "Shaimaa is playing with her friends again, fulfils her hobbies, and we draw together a lot". Even though the education Shaimaa had in the 2nd and 3rd grade wasn't as good as she deserves, she managed to excel in her class with the support of her caring teacher.
Shaimaa now is participating in class actively, she is playing with her friends especially her best friend "Jana", and she is talking to her teacher a lot. Now, Shaimaa is more optimistic about achieving her amazing ambition "my dream is to be a doctor. I will continue my education and fulfil my dream".