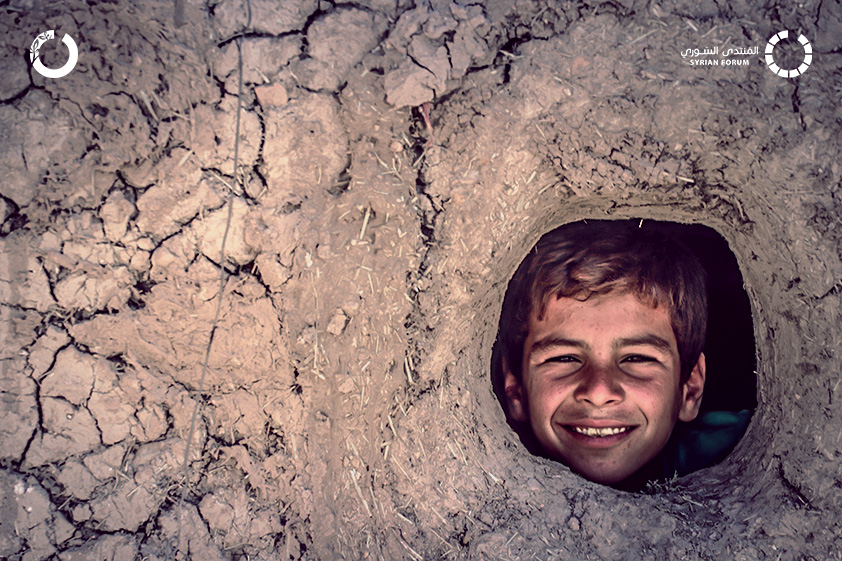 Kasem, 12 years, the oldest of his five brothers. due to war and bombardment, Kasem and his family were forced to leave their home in Hama and headed to the north of Syria where it is a relatively safer place for them till they settled in an IDPs camp in Harim Sub District, Idleb.
The experience of forced displacement made Kasem out of school, and no friends to play with, thinking of the play yard he used to spend most of his time in, "I miss my school and my family's field of olive trees, I miss home, and everything", loneliness that is what was Kasem suffering the most.
Kasem's father was concerned about his oldest son and added: " My family went through a long and harsh journey of displacement, I'm worried about my children's future for being out of school all this time."
Loneliness and sadness that Kasem was feeling ended when IhsanRD Protection Mobile Team arrived to the camp, where the team launched a series of group activies, and out of nowhere the happiness spreaded among the children, Kasem and his brothers started to play with other kids, they forgot about the displacement at least for a while.
Also, IhsanRD team supported the informal education space in the camp with learning instruments and provided the children with books, bags, and stationery, Kasem and other kids returned back to school.
Kasem's dream is to have a stable life, returning to the olive trees and their old home, and completing his education to become a teacher at their village school.
With THF support, IhsanRD is implementing a protection response through integrated mobile emergency services in NW Syria, we have managed to reach more than 50,000 IDP's with different services like rising awareness sessions, psycho-social support, case management, and recreational activities for children.