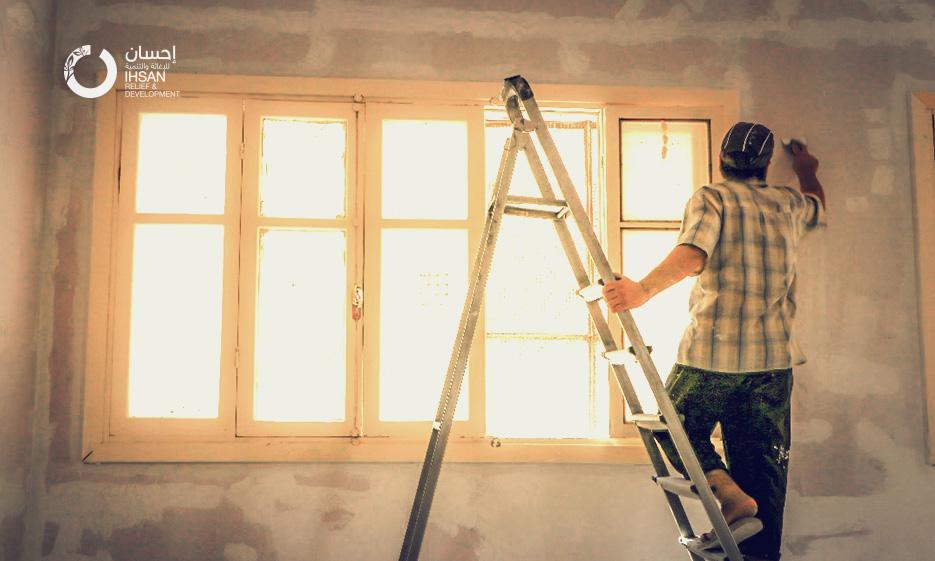 The story hasn't finished yet … the suffering of Fawzi and his family has not ended with the end of their displacement from Ghouta to northern Syria.
Fawzi, like many heads of displaced families, needs to work so his family can survive.
This is what IhsanRD seeks to achieve through the integration of cash-for-work activities projects in Syria.
Difficult days Fawzi has passed through during the journey of displacement from eastern Ghouta, where he witnessed with his family times filled with fear and terror.
Fawzi's suffering did not end despite the end of the displacement journey from Ghouta to the north, he ran into a painful reality there, where job opportunities are almost non-existent, what caused more suffering and anxiety for him and his family and continued lacking most of the necessities of life. He even lived hard times similar to those he lived during the siege of the eastern Ghouta.
Today, Fawzi, thanks to his work in one of the workshops on school rehabilitation projects supported by IhsanRD in the city of Idlib, has been able to provide support for his wife and children, Fawzi will return home with the needs of his family. That is the happiness that Fawzi hopes to continue alongside his work.
Fawzi's story resembles dozens of stories of people who have managed to achieve some of their dreams that are limited to getting a job that provides them with some basic needs that helps them to survive.