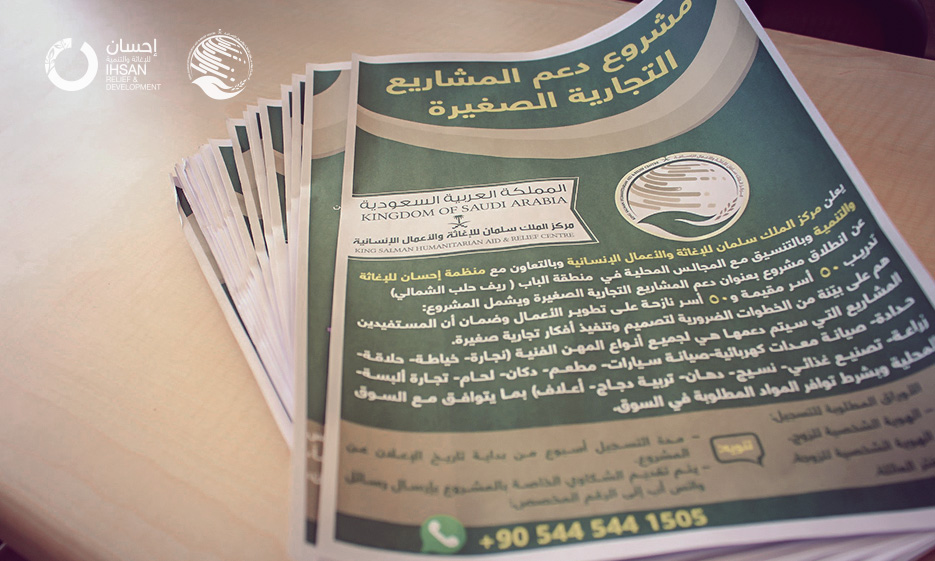 Believing in the ability of the Syrians to make living and produce, and towards empowering the most vulnerable people in society, IhsanRD has signed a Memorandum of Understanding (MoU) with a number of local councils in northern Syria in order to start a new project to support small businesses in the region that will give beneficiary families the opportunity to be self-reliant and take the lead in insurance of food and decent living.
This Project is part of a series of projects funded by King Salman Humanitarian Aid and Relief Centre, in several Syrian governorates aimed at strengthening the resilience of the Syrians in face of the difficult conditions they have suffered since the beginning of the war. These projects are also directed at moving beneficiaries from a state of dependence on food aid to a state of active work and production.
The Small Businesses Support Project in northern Syria is being implemented over a period of 6 months.
The project provides support to 200 beneficiaries selected from IDPs and host communities from the most vulnerable people.
The project activities include two main phases:
The first phase of the project (training), where the training will be provided to the beneficiaries on the design and planning of small business projects, including the budget planning and development of the project strategy and considering the principles of security and safety and environmental conservation during the implementation of the business. As well as practical training on how to fill the project proposal to be submitted to the selection committee for projects to be supported.
The second phase of the project (support and consultation) After the trainees submit the project proposals, a specialized team from IhsanRD will study the submitted proposals and grant approvals for the projects that meet the criteria. The beneficiaries will be supported by materials and equipment necessary for them to start their own business.
Finally, IhsanRD's team will provide technical support and consultation to ensure the continuity and success of the project. "By supporting small businesses, we aim at securing stable income for beneficiaries and to give them the opportunity to start their own businesses that support their independence away from relying on traditional relief assistance," said Mr Loay, project manager at IhsanRD.