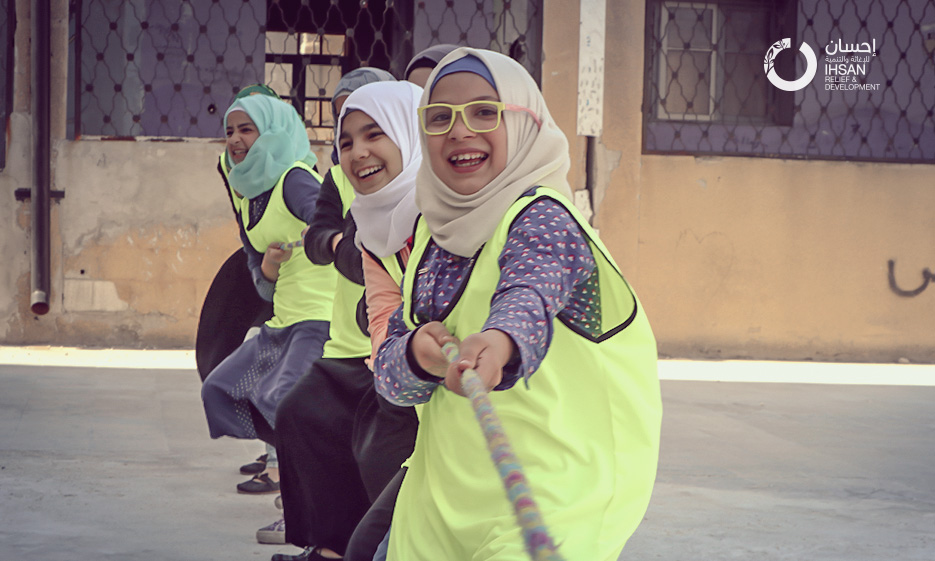 The end of the semester does not mean stop going to school! At "Zakaria Batos" school and four other schools in Idlib city, the students continue to attend their classes during the summer. So, why do children prefer to go to the school during the summer vacation instead of enjoying and playing with their friends in the neighborhood or staying at home for rest and relaxation?
The summer clubs that IhsanRD has launched this year witnessed a high turnout among children from the 1st class up to the 9th class of basic education. Education team at IhsanRD is carrying out summer clubs in 5 schools in Idlib, Al-Dana, and Jabal-Sam'an, with up to 1,000 children who prefer to spend the summer vacation with their friends at the school club, where several recreational activities are held such as painting, acting and sports, in addition to the group activities that develop a spirit of friendship and collaboration among them. And certainly, the basic subjects are being taught for students such as mathematics and Arabic and English.
The impact of these clubs is evident in building a strong relationship between the children and the school so that the process of education becomes beloved for children, this changing became clear as the children of neighboring schools enrolled in summer clubs at these schools.
In addition to the activities of summer clubs, in cooperation with one-world children's organizations, the same schools receive displaced children who, during the ordeal of displacement, have been forced to drop out of their schools, in non-formal education activities aim at providing these children with major subjects such as Arabic, mathematics, and English to help students who have missed their classes.
The number of students who enrolled in these courses reached 1,060 students from the 1st to 6th class in four schools in Dana and Jabal-Sam'an districts.
As an integral step between the programs at IhsanRD, there is a cooperation with the protection program to refer special cases such as the existence of disability or difficulty in educational achievement, which requires the intervention of the protection team to follow cases and help them to overcome the ordeal and better coexistence with friends and surrounding environments.