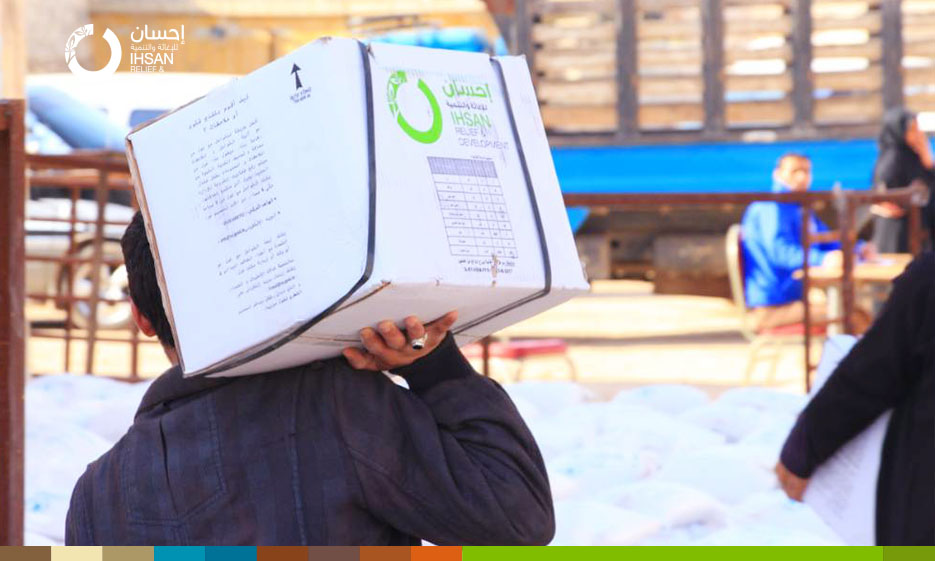 More than 13.1 million people are in need of humanitarian assistance in Syria, while the number of IDPs is 6.3 million more than half of them are children. While the Syrians suffer from the high cost of living and the deterioration of economic conditions as a result of the war that has been going on for 6 years, which has significantly affected the value of the Syrian pound and the high prices of foodstuffs in the market, which calls for continuous intervention of humanitarian organizations and agencies to deliver more food assistance indispensable to The most vulnerable families in Syria.
Ihsan for Relief and Development has launched a new project within the Food Security and Livelihoods Program aimed at supporting the most vulnerable families within refugee hosting communities in the western countryside of Aleppo by providing food baskets monthly to 1,250 families for 11 months.
One basket contains sufficient needs for a family for one month of flour, rice, groats, lentils, oil, chickpeas, salt, tomato molasses, and pasta. Where the contents of the food basket were studied by IhsanRD team to suit the basic needs of the family and the selection of families according to specific criterias that take the consideration of the situation of displacement of the family and the presence of individuals with special needs or be the breadwinner of the family of women or children and families of widows.