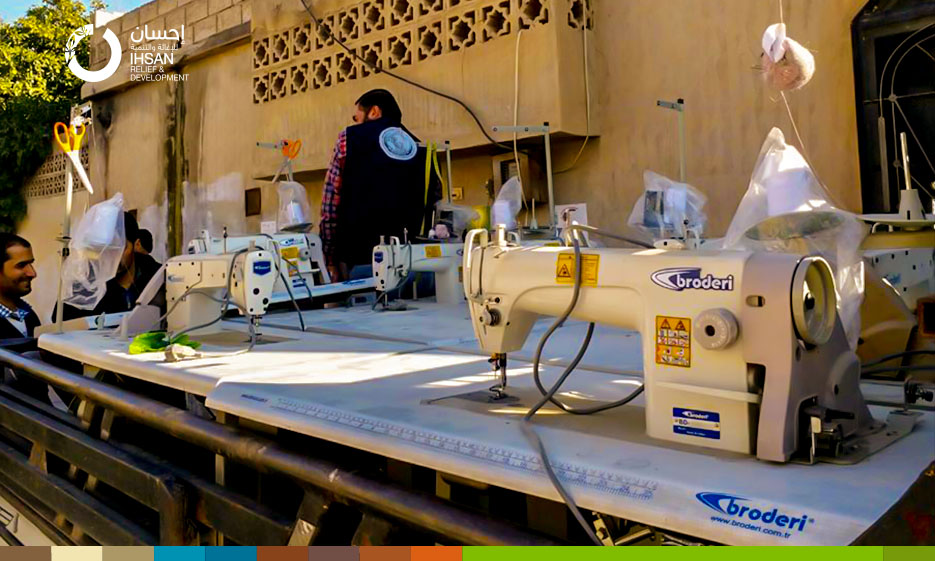 In order to support and empower women, a memorandum of understanding was signed between the Women's Creative Center Supported by IhsanRD in Jarabulus city and The Stabilization Committee of the Aleppo Governorate Council, which is carrying out many projects aim to support and activate the role of civil organization in the governorate. Due to the MOU, the Committee provided seven sewing machines to the Women's Creative Center in Jarabulus, which will benefit from within the scheduled activities in the classes of developing the vocational sewing skill of participant women.
Women's Creativity Center in Jarabulus is one of many centers operated by IhsanRD in several areas of Syria. Through its centers, IhsanRD aims to support women's creativity, develop their skills and raise their awareness of their special role and abilities through training activities for women and girls in various professional and educational aspects psychological support.
 A new session is held every two months. The activities of the Women's Creativity Center in Jarabulus during the last session included about 500 women. The centers include activities and multiple classes in literacy, computer skills, sewing and wool knitting, English, hairdressing courses, and sessions about life skills for girls. The center has a nursery room to relieve the burden of mothers participating in scheduled programs. The Center's activities also include mobile teams conducting awareness sessions for women and girls outside the center.
widget demo"][/vc_column_text][/vc_column][/vc_row]