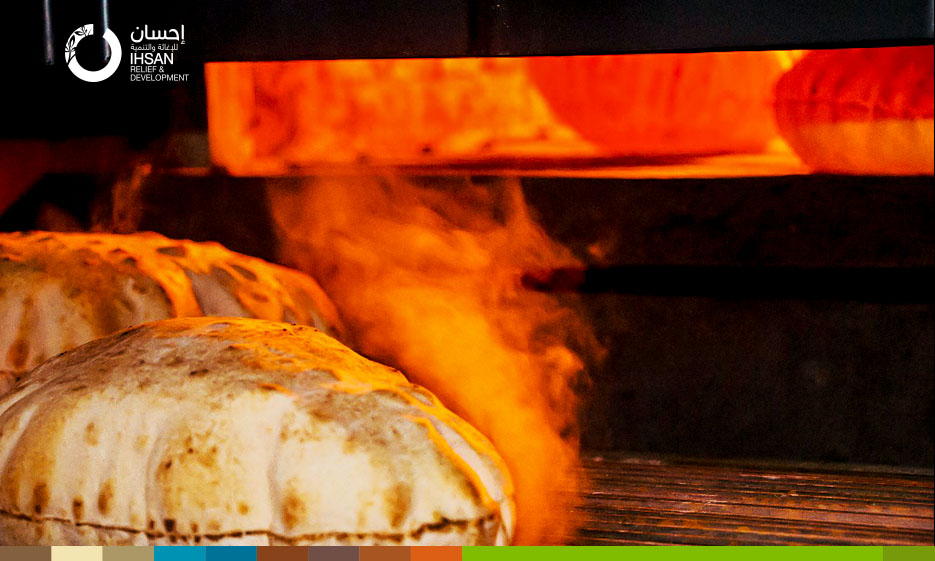 Despite the ongoing war in Syria, IhsanRD continues its projects to restore food security and ensure safe access to food for the local population through the implementation of rehabilitation projects for food facilities, which have been exhausted by years of war, constant fighting and shelling.
IhsanRD team in Southern Idlib countryside has completed a rehabilitation project for a major reserve bakery in the region, serving 25 towns in southern countryside of Idlib through the restoration and maintenance of the main building and the rehabilitation of the facilities in it, in addition to providing the bakery with the machines needed for producing bread for more than 60 thousand residents in the surrounding areas.
"The bakery in our area is badly damaged and unable to cover the needs of bread for the people in the surrounding villages," says Abu Mohammed, a resident of the area. "We are waiting impatiently for the opening of the bakery. Getting a hot bread is a happy day for us, sometimes we have to cut tens of kilometers to get on bread"
The production line was successfully tested after the rehabilitation and restoration of the reserve bakery in the project implemented by IhsanRD in collaboration with WHH and with the support of the German Foreign Office. The bakery will open in the coming days with a production capacity of 36 tons per day.
"There's nothing like the enjoyment of getting a hot bread, bread is the main food item for Syrians and as a result of the war in Syria, it is impossible to get a loaf of bread in some areas, so we had to respond to the main need of people in southern countryside of Idlib in securing the bread " said Bassel, a project manager at Ihsan.
However, bread is not the only issue faced by Syrians, and other basic necessities such as water and electricity have become increasingly difficult and costly. Support is not only for the construction and rehabilitation of more bakeries, but also for the rehabilitation of water and sanitation networks in the region, and the support of agriculture and livelihoods for the population through various projects in IhsanRD through food security, livelihood, water, education, protection and shelter programs.