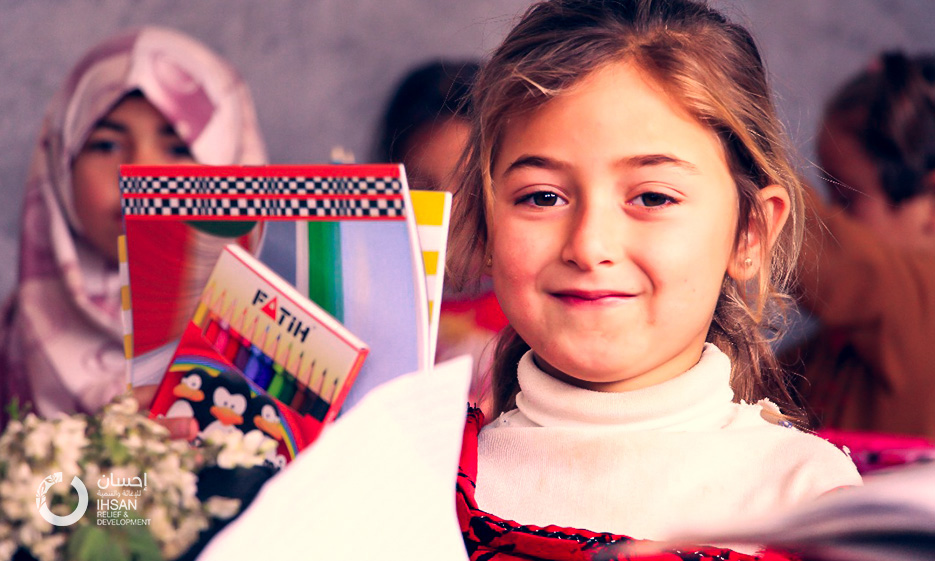 Some parents prefer to keep their children at home over sending them to school in case of bad weather or if they fear that their health will get worse when the children are already ill. In Syria, children are going to school despite the ongoing war. Education cannot stop and children cannot cintinue to miss out on school as the war carries on for an eighth year.
Some children can not attend school because of displacement or due to the economic situation of their families. At times some school aged children are forced to leave school and help their families in securing a household income. Many, however, insist on continuing their education and attending their lessons even if they do not have school bags or supplies like other children.
The education program team at IhsanRD managed to fulfill the dreams of 10,641 students to obtain school bags that include notebooks, pens, and a complete set of stationery. Of course, most of the girls wanted the red and pink bags, while boys took the blue bags. But most importantly, they are happy and eager to continue their studies so that eventually they can have a role in rebuilding their society.
The teachers also got their share of supplies. 314 teachers in 20 schools supported by IhsanRD in Aleppo, Idlib and Daraa governorates all received teacher kits.