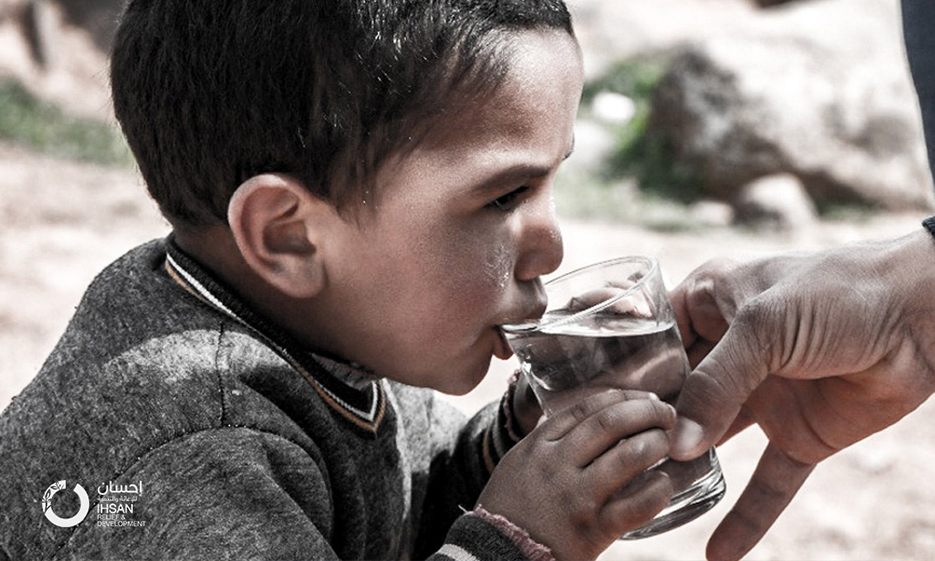 During the war years in Syria, displaced people have been suffering from lack of drinking water in the camps, which has directly affected their daily lives. Some of what we take for granted may be considered as a daily struggle for thousands of Syrian families in camps.
In some camps, the only way to get potable water to survive is through Water Trucks from faraway places, especially as most water stations are out of service as a result of war and continuous shelling.
The drought and the scarcity of drinking water have led to many serious problems facing IDP communities in Idlib. The lack of rangeland and drinking water has had a negative impact on livestock and crops, threatening the food security to people and increasing child malnutrition rates.
Through the Water Program and in cooperation with UNICEF & Ihsan Relief and Development (IhsanRD) has launched a new project responding to the needs of IDP families in Idlib, Hama and Aleppo Western countryside by providing them with daily drinking water tanks for 10,000 families of water Up to 1250 m3 per day. In addition, the project team has rehabilitated two water stations in Sraqib and Bennin and supplied them with the necessary fuel for work.
"As long as the water trucks continue to come, we can endure, but if we are cut off for a week, the situation will become catastrophic and we will have to move elsewhere.  As you can see, displacement is not only about the security situation but also about the availability of reasons for living," said Abu Yahya, head of his household (a wife and three children).
Eng. Mohammed project officer in within Water Program at IhsanRD said:
"Providing water to the camps is essential for the lives of people who are living in the most difficult conditions, not only for drinking, but water also is necessary to improve hygiene, particularly in the circumstances of displacement."
In addition to providing water to beneficiaries in different ways, the project also includes a number of activities aimed at improving the hygiene of IDP families in both camps and displacement communities through the distribution of garbage containers, sewage drainage in camps and construction of toilets, collecting garbage from camps by trucks and unloading them in dedicated dumps away from the camps in order to improve hygiene in displacement communities.
In addition, the project team distributed granules to sterilize the water to the families within the camps. In the coming phase, water tanks will be installed, clothes and blankets will be distributed in many camps in the countryside of Idlib and Damascus countryside.