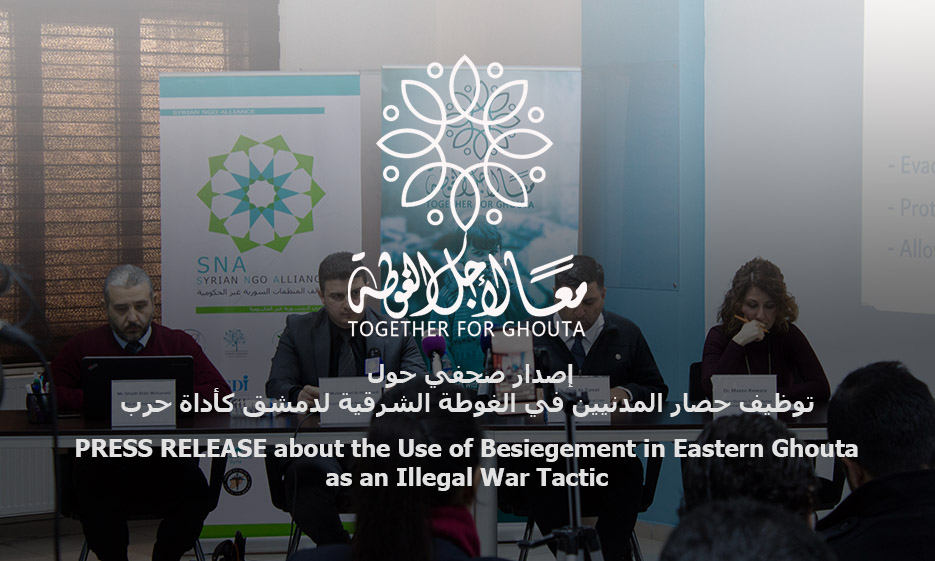 Gaziantep, February 14, 2018
From our collective moral responsibility to the Syrian people in need, the Syrian Humanitarian Non-Governmental Organizations calls on the government in Damascus, and its supporters, to grant humanitarian access to those in need, and to stop targeting civilians and civilian infrastructure in eastern Ghouta. The Syrian NGOs also calls on United Nations agencies and their representatives and the Security Council member states to fulfill their responsibility to protect civilians caught in the conflict, implement effective and immediate measures to end the suffering, and to break a siege being used as an illegal war tactic on innocent civilians.
For four years and four months, the Syrian regime has imposed a brutal siege on the people in eastern Ghouta, denying access to goods and humanitarian assistance to and from the area. The limited quantities allowed sporadically is not nearly enough to relieve the suffering of the large number of civilians trapped inside. Desperately needed medical equipment and supplies are regularly taken out of humanitarian convoys before being allowed to  enter the besieged area.
In rare cases, limited quantities of commercial goods are allowed to enter the besieged enclave. However, due to the extremely high fees imposed on goods, people in the besieged area are unable to afford the bare minimum they desperately need. Those same fees are then used to continue funding the war, and maintaining the siege. In addition to suffering and starvation, some 400,000 people are constantly subjected to systematic air raids and missiles targeting civilian infrastructure such as hospitals, schools and markets.
The continuous and systematic targeting of innocent civilians and intentional starvation are a crime against humanity and must be recognized as such. The international community and the Security Council keep turning a blind eye on the atrocities in eastern Ghouta, and have proven incapable of stopping these war crimes.  The people of eastern Ghouta have been abandoned by the world, and crimes against them remain unrecognized. By refusing to acknowledge offences committed against the people of Eastern Ghouta, United Nations agencies and human rights institutions fail the very purpose of their mandate.
On February 6, 2018, the United Nations Syria-based team issued a press statement calling a one month cessation of hostilities to enable delivery of humanitarian aid and services to people in need. In a clear contradiction in the very same statement, UN stated that reach to besieged areas is paralyzed due to access restrictions imposed and that if access was granted UN could reach over 700,000 people in besieged and hard to reach areas in two months. While it's recognized the importance of a cessation in hostilities to protect civilians and alleviate their suffering, giving the impression that continuous civilian war in Syria is the main cause for lacking humanitarian access indicates great improper approach to address the issue. It's shameful to keep avoid naming the major party who is behind the suffer of civilians and the crime against humanity being committed against them.
Despite seven years of conflict, humanitarian access in Syria was never completely blocked, except for areas deliberately besieged by parties to the conflict. The significant decrease in hostilities during the implementation of the de-escalation zones agreement in second half of 2017 in eastern Ghouta had no real impact on the humanitarian access to eastern Ghouta according to United Nations figures. Calling on a savage war that is continuous since more than seven years to pause to gain humanitarian access is an inacceptable approach and brings great diversion to realities and the main reasons behind people suffer.
The siege on eastern Ghouta is considered the longest in modern times. In 2016, eastern Aleppo's besiegement lasted for six months, and despite the moderate deterioration in humanitarian situation for civilians, the siege ended with the retreat of non-governmental armed groups and the forced displacement of civilians to other areas.
The siege on eastern Ghouta has lasted for over four years now. While fighting around it is continuous since then, besieged civilians are being punished by hunger, sickness and constant death resulting from shelling and airstrikes. It is time for UN and member states to act immediately to put an end to this crime against humanity. It is time that Syrian regime in Damascus understands that battels are won at frontlines not through children and mothers hungriness, or by wounds and sickness of elderlies and the most vulnerable.
The targeting of civilians by all parties in Syria is unacceptable, must be stopped immediately, and perpetrators must be held accountable whoever they are. We are also shocked by the news from Damascus city indicating few civilians were killed by bombardment from Ghouta direction. We condemn these acts and call on putting them to an end.
For further information, please contact:
Khaled Mosafa, Syrian NGO Alliance Advocacy and Communication Coordinator: [email protected], +905316929229.
Mohammed Alhammadi, Syria NGO Alliance Coordinator: [email protected]. +905383685851