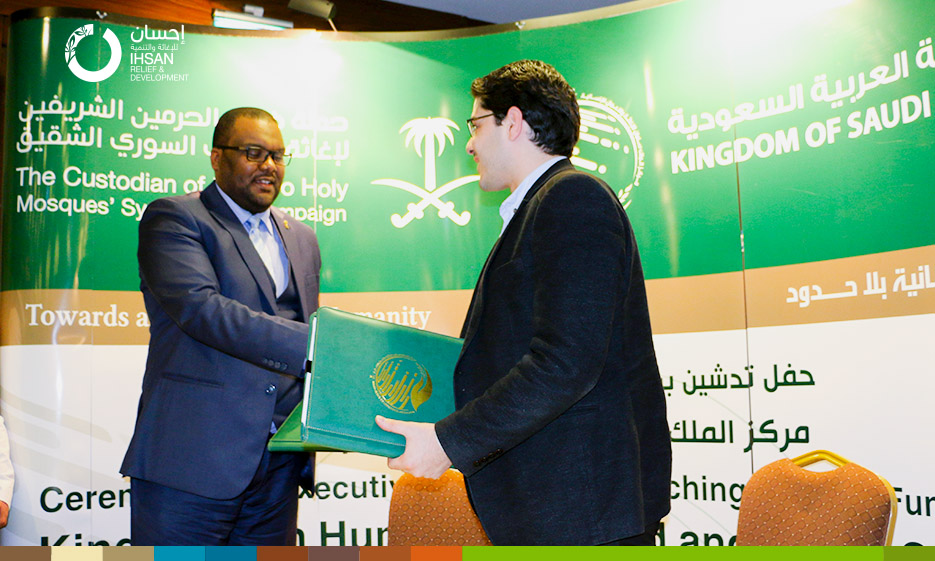 Ihsan for Relief and Development has signed a joint cooperation agreement with King Salman Humanitarian Aid & Relief Center, during the ceremony held in Gaziantep/Turkey, involving a number of Syrian organizations that have signed cooperation agreements in several projects, funded by the King Salman Center.
On behalf of IhsanRD the agreement was signed by Mr.Braa Al-Smoudi, the Executive Director of IhsanRD, in the presence of the Ambassador of the Kingdom of Saudi Arabia in Turkey "Eng. Walid bin Abdul-Karim" and many Turkish public figures. King Salman Humanitarian Relief Centre will support IhsanRD through funding two projects inside Syria, the first project in the protection sector aims to Open and support community centers that provide psycho-social services and vocational training for children and women, with a grant of one million USD, about 30,000 beneficiaries within the project. The other project is valued at $ 860,000 in the Food Security and Livelihoods Sector, which aims to provide small grants to 2700 beneficiaries in the governorates of Homs and Daraa.
Mr. Bara Al-Samoudi, Executive Director of IhsanRD, stated: " This grant from the King Salman Humanitarian Aid & Relief Center to support a relief projects in Syria, is important because it reflects the solidarity of the Saudi people with their brothers in Syria who have been exhausted by years of war. We are proud of the successful experience and productive partnership with King Salman Humanitarian Aid & Relief Center, which began last year through the grant provided for a number of relief projects carried out by IhsanRD". At the end of his speech, Mr.Barra Al-Samoudi thanked the Turkish government for hosting the Syrian refugees and standing by the Syrian people in its issues and providing the supportive and nurturing environment for the humanitarian organizations.