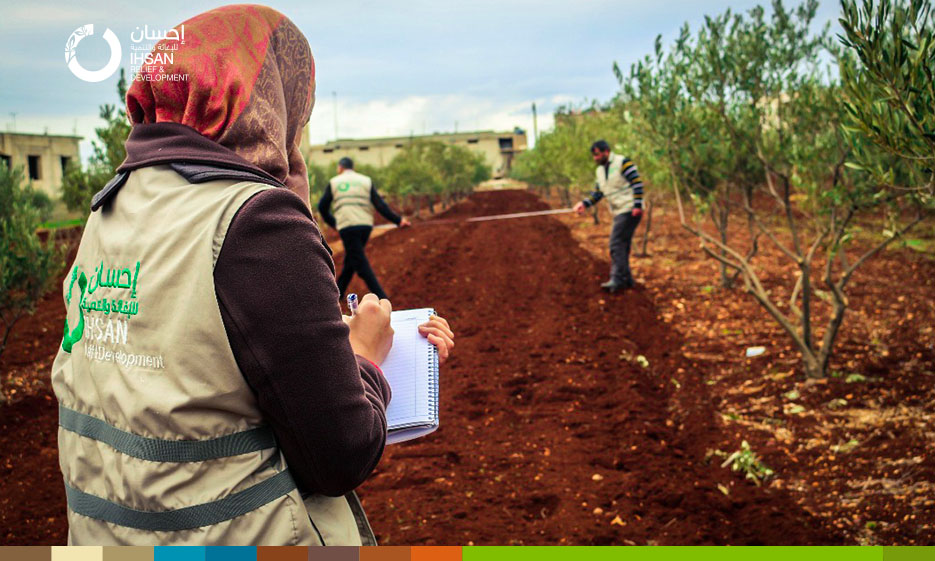 After registering the farmers in the intercropping" project,  field verification visits have been conducted and standards tests were applied on seeds and fertilizers before being distributed to the farmers.
Last week, the tillage stage has been ended, followed by seeding the fields after the fertilizing process. Sowing seeds process was under the supervision of technical engineers and standard measurements according to the modern methods of tillage and sowing. Thus, plowing and sowing of one thousand one hundred twenty-five acres for about four hundred farmers have been completed within "Intercropping" project in the villages of Rastan and Talbisa in the northern Homs countryside.
Ahmed, the Project Officer of Intercropping project in the Food Security Program at IhsanRD said: "The importance of the project is to provide benefit to farmers in two ways:
As legume crops are an important source to feed farmers' families, local people and as a source of income as well.
It also will contribute to benefit the olive trees and the renewal of soil fertility through planting legume crops."
This project aims to support the food security and livelihoods of people in the northern Homs countryside through the provision of leguminous seeds for planting among fruit trees, as well as, providing fertilizers and tillage of land and partial support for irrigation.