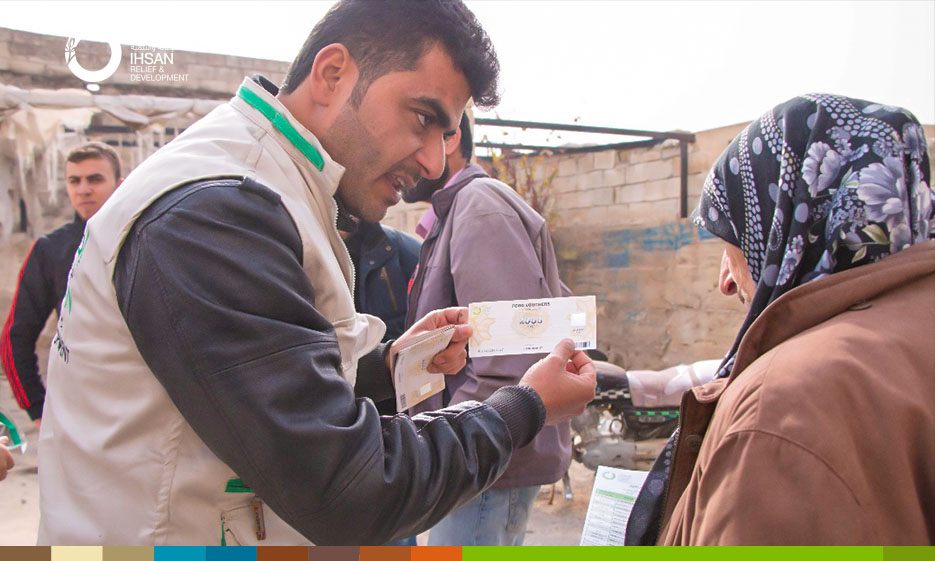 IhsanRD has launched a food support project within the Emergency Response Plan for the Displaced in Southern Idlib countryside.
The project provides support to displaced families and host communities by distributing food vouchers to 500 families in the villages of Hazareen, Kafr Awaid and Al-Fatira. This voucher allows the family to purchase food items according to the needs of each household, valued at $ 60 per family.
These vouchers can be exchanged with food in the suppliers stores whom authorized  by IhsanRD and attended the training that the project team has held few days ago about the security features of food vouchers, vouchers exchanging and complaint mechanisms.
Um Jamal, one of the beneficiaries of the food vouchers, expressed her feelings about the project. "The food voucher system is much better than the distribution of baskets directly, so I can choose the food and goods that my family needs, and allow me to go to the store to shop at the time which suits me))
In addition to food vouchers, food baskets continue to be distributed as part of the emergency response plan for 1250 families in the western Aleppo countryside targeting the most vulnerable families within refugee hosting communities according to specific criterias that take the consideration of the situation of displacement of the family and the presence of individuals with special needs or be the breadwinner of the family of women or children and families of widows.