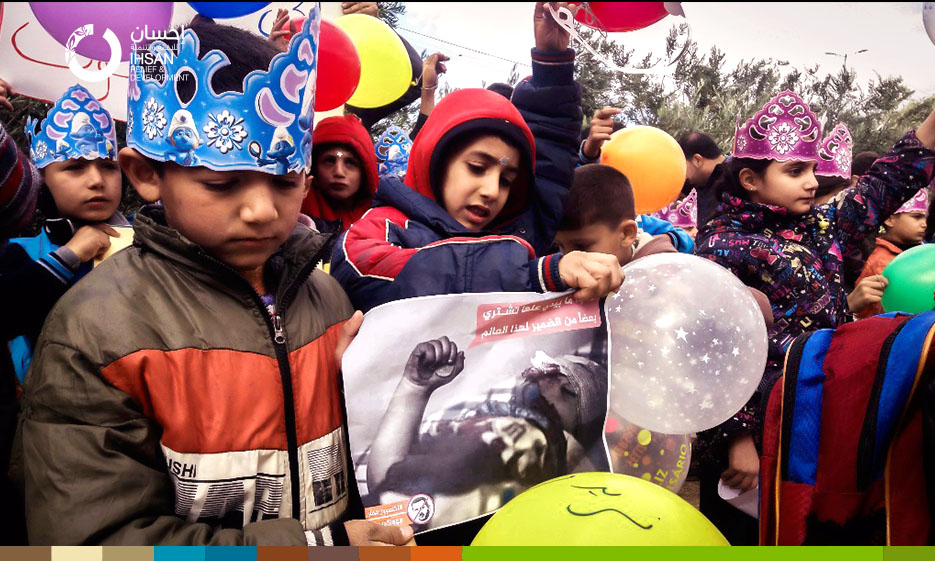 "Save the children of al-Ghouta"
"How long will you remain silent?
These were the signs carried by the children of the northern Homs countryside at the solidarity stand organized by the Child-Friendly Space supported by IhsanRD in Al-Rastan in solidarity with their friends in the Eastern Ghouta on the occasion of International Children's Day. The people of Al-Ghouta near the capital Damascus is still suffering from the siege for more than three years, where food prices have risen almost impossible for the people in Al-Ghouta to provide enough food to survive, especially during the last week as the siege intensified and medical evacuation is prevented resulting in killing civilians including children due to malnutrition, in addition to the brutal shelling of civilians without discrimination.
All this has caused the children of northern Homs to forget their own suffering and their hardships and push them to stand in International Children's Day and appeal the whole world and everyone who has the decision to "End the siege of Al-Ghouta"